Inclusive Finance Agenda, AFI Partnership
Inclusive Finance
At Letshego, we believe that inclusive finanace requires the provision of simple, appropriate and affordable financial services to those who have historically been excluded from the formal financial sector. Most countries in Africa have experienced strong economic growth over the past decade yet this has often not translated into sufficient improvements to the living standards of many on the continent. In part, this is due to the high levels of financial exclusion, the disparate concentration of wealth and high levels of income inequality. In order for growth to be sustainable, it must be based on social and inclusive finance that addresses the needs of all people, regardless of status, position or financial means.
We recognise that there is an obvious tension between inclusive finanace and over-indebtedness – to address this, we are committed to responsible and ethical lending. We are in the process of preparing for a compliance audit against the Centre for Financial Inclusion SMART Campaign Client Protection Principles. These principles are presented below: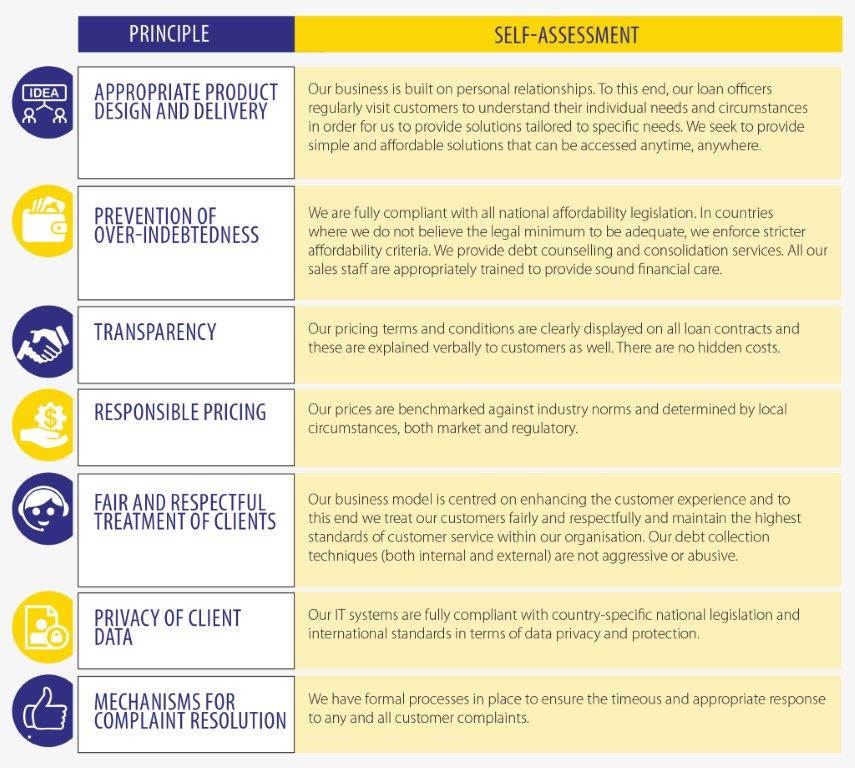 Sustainability
Environmental and Social Governance (ESG) concerns are directly linked to our financial inclusion agenda and the goal to quantify our social impact. Therefore, we have established a partnership with a leading ESG advisory firm  that assists us in analysing and better understanding the ESG themes impacting our operations – by leveraging  social performance data, we can mitigate ESG-related risks and drive sustainable growth.
Our ESG partner will propose key activities and strategies to enable Letshego to establish, understand and leverage correlations between financial returns and positive social impact in order to grow. This will ensure that we will achieve our development goal of growth and responsible financial inclusion.
Key to the achievement of our future state is our drive to provide audited and credible social data that demonstrate Letshego's social performance. Our ultimate goals are that of reducing reputational risks through the ability to demonstrate our commitment to our forward-looking brand promise, 'Let's improve life'.
The ability to prove our social impact will enhance our access to and reduce the cost of capital, making us eligible  for further development capital and impact investment. Moreover, this agenda will enhance our ability to enter new markets and reduce regulatory risks as we will be able to present hard financial inclusion and development  outcome data to regulators.
This integrates with our diversification goals as support from government and other key institutions within new markets is of utmost importance.
Letshego becomes Alliance for Financial Inclusion's First African Partner in Public Private Dialogue Platform


In recognition of our commitment to sustainable financial inclusion and improving lives, Letshego has become the first African private partner to be invited to join the Alliance for Financial Inclusion (AFI). AFI is a global network of financial policymakers from over 100 developing and emerging country policymakers and regulators, working together to increase access to financial services.
AFI facilitates various programmes in affordable micro finance, including working groups and an annual global policy forum. These activities result in a better understanding of financial inclusion and related issues due to information interchange and assist in the formulation and implementation of effective policy by members in their home countries.
Letshego has attended the AFI Global Policy Forum held in Maputo in September 2015; presented at the AFI's African Mobile Phone Financial Services Policy Forum (AMPI) forum in Cote d'Ivoire and attended the 8th Annual G-24/ Alliance for Financial Inclusion ("AFI") Policymakers Roundtable held in Washington DC in April, 2016; and the World Economic Forum held in Kigali in May of 2016.
Our partnership with AFI provides us with a platform to innovate and lobby governments and regulators for improved regulations and enablers for responsible financial inclusion.
The Maya Declaration
The Maya Declaration, a commitment to unlock the economic and social potential of the world's unbanked through financial inclusion, outlines challenges of effective financial inclusion at a policy level and country regulators' commitments to overcome these in partnership with public and private sectors and counterparts across regions. Letshego is largely aligned to The Maya Declaration.
At Letshego, we have committed to delivering concrete financial inclusion outcomes across our Sub-Sahara African footprint by providing sustainable, relevant, cost-effective, and meaningful financial services for financially unserved populations.
Seven of ten countries in which Letshego operates in sub-Saharan Africa have committed, at a government level, to the Maya declaration as of December 2015. Letshego intends contributing to this evidence-based, financial inclusion-focused agenda by providing policy makers with critical financial inclusion and social impact data that is available to us as a provider of financial services. Environment, social and governance (ESG) concerns are directly linked to our financial inclusion agenda and the goal to quantify our social impact.
Addressing the challenges to Financial Inclusion
We have identified the following challenges to achieving inclusive finance in Africa, and are making active contributions towards addressing these: