LetsCare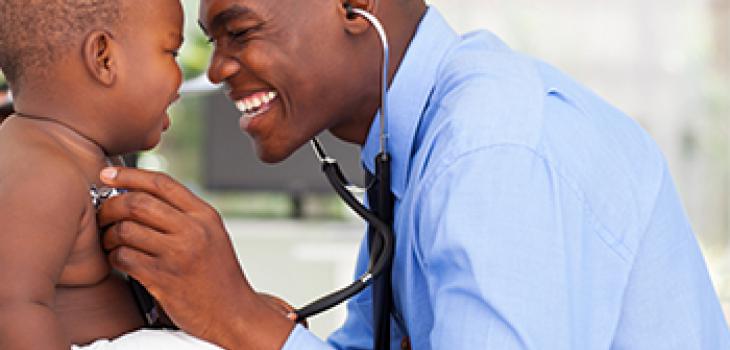 In 2015, we launched a flagship multi-year strategic social investment project as part of the Group's commitment to improving lives. Its focus is on identifying and supporting practical innovation in tackling Non-Communicable Diseases (NCDs). This is through a Healthcare Innovation Programme led by a strategic partner of Letshego's, a UK-based provider of continuing medical education (CME) and guidance to strengthen primary care (named LetsCare across the Group).
LetsCare has been launched to support projects across Letshego's footprint. In 2016, we aim to commence in the following countries – Botswana, Kenya, Rwanda and Uganda. The 'silent killers' (cardiovascular disease, diabetes, respiratory conditions and mental illness) are a serious concern to the World Health Organisation (WHO and many nations as changes in lifestyle increase attendant risk factors. A differentiated approach is needed. Citizens need prevention and diagnosis without expensive referrals, and recall systems that provide sustainable access to medication. LetsCare will focus on achieving measurable improvements in the diagnosis, management, and ongoing care of NCDs in our countries of operation.
Letshego has made a long-term and significant commitment towards this SSI area: a 3 year partnership with investment of up to 11.25 million Pula (1.13 million US dollars). The partnership will leverage our strategic technical partner's key resources and intellectual property. Including guidelines and medical education, support from highly trained UK family doctors, and input from experts in management and innovation.
Our model for partnership is as shown below: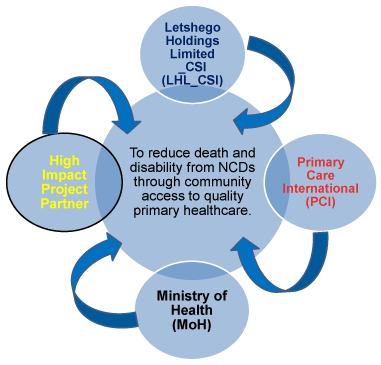 In March 2016, an Innovation Workshop was hosted by Letshego in Nairobi, Kenya. Over 30 institutions were represented, whose focus was in areas of NCD prevention, diagnosis and management for low-income communities. Ideas and networks were shared and created. In addition, high potential project partners were identified, which Letshego could support with scale-up funding towards innovations in NCD healthcare.