Namibia

Namibia IPO
WELCOME TO A GREAT EMPOWERMENT OPPORTUNITY IN NAMIBIA'S FINANCIAL HISTORY. 
Letshego Holdings Namibia (LHN), with its strong financial inclusion approach, brings another empowerment opportunity to Namibia. Shareholders are selling 20% of the issued shares in LHN to Namibians, enabling them to be part of Letshego Namibia's history of improving life. 
We are calling the offer of our sale of shares "Ekwafo Letu" which means "Our Support". 
This is in recognition of what Letshego, at its core, stands for; to provide support. Support to those who are typically under-served by traditional financial institutions.
Our Letshego story is about empowerment, via the solutions we provide, and now via Ekwafo Letu as we offer our shares for sale to the Namibian public. Our purpose is to provide simple, appropriate and accessible solutions to the financially under-served and excluded in a sustainable manner.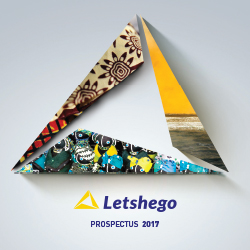 Online Application:
• IPO online application (Individual and Legal Entities application)                                       
                                                                    
Downloads:
About Us 
Letshego Financial Services Namibia (Letshego Namibia) opened its doors in 2002 as Edu Loan Namibia, providing consumer and micro-lending services. In August 2008, Letshego Holdings Limited (LHL), a Botswana Stock Exchange (BSE) listed entity, acquired 100% of the company, soon after which the company re-branded to Letshego Financial Services Namibia. LHL is the largest indigenous BSE-quoted company with a current market capitalisation in excess of BWP 5 billion (US$ 500 million) that places it in the top 40 sub-Saharan Africa companies (excluding-South Africa).                                                                                                       

We focus on low to middle income earners in the economy, through the provision of financially inclusive solutions. Previously, we only offered payroll loans throught the deduction at source model. To enable the new operating model that will support and deliver our financial inclusion and diversification strategy, Letshego applied for, and was awarded, a provisional banking license in July 2014. We are looking to roll out deposit and transactional solutions to customers across the country should our provisional banking license be confirmed. The solutions will bear our hallmarks of being responsive to needs of the people, simple to understand, accessible by way of innovative new channels, and above all, ethical solutions being developed that enable savings and sustainable economic growth.
Our Products
| Product Name | Min Term (Months) | Max Term (Months) | Min Loan Amount (NAM) | Max Loan Amount (NAM) |
| --- | --- | --- | --- | --- |
| Personal Loans | 6 | 60 | 1,000.00 | 50,000 |

Contact Us
You can find us at the following address or email us at namcustomer@letshego.com and we will get back to you. 
| Branch Name  | Physical Address | Telephone  |
| --- | --- | --- |
| Eenhana | Shop 17, Greenwell Complex | 065 - 263 803 |
| Gobabis | Shop 8, Tau Shopping Centre | 062 - 562 831 |
| Grootfontein | Erf 159, Hidipo Hamutenya Street | 067 - 240 861 |
| Katima Mulilo | Shop 3, MVA Block, Shoprite Lafrenz | 066 - 252 882 |
| Keetmanshoop | Shop 10, Desert Plaza, Hampie Plichta Street | 063 - 224 510 |
| Okahandja | Shop 18, Brumou Building, Martin Neib Street | 062 - 502 764 |
| Ondangwa | Shop A8, Time Square Mall | 065 - 280 300 |
| Opuwo | Champ Style Complex, Mbumbijazo Muharukua Street | 065 - 273 547 |
| Oshakati | Shop 8, GIPF Building, Sam Nujoma Road | 065 - 208 000 |
| Otjiwarongo | Paresis Building Centre, Mark Plein Street | 067 - 306 416 |
| Outapi | Unit 5, Kambwa Complex, Humbertus Shetunyenga Street | 065 - 251 669 |
| Rundu | Shop 2B, Northgate Building, Eugene Kakururu Street | 066 - 266 580 |
| Swakopmund | 1st Floor, GIPF Building, Sam Nujoma Drive | 064 - 406 205 |
| Walvis Bay | Haus 2000, Sam Nujoma Avenue | 064 - 270 470 |
| Windhoek | 18 Schweringsburg Street, Windhoek | 061-321 6600 |